For sure, we all get bored with time by wearing the same old watch band on our Apple Watches. Well, if you are looking for rose gold bands for your Apple Watch device, then this article is for you!
All rose gold bands listed in this article are compatible Apple Watch Series 3, Series 2 and Series 1. They all come in 38mm and 43mm sizes.
Currently, these rose gold Apple Watch bands are hot on the market:
1. COVERY's Genuine Leather Band – $9.99
This rose gold band is made of top quality genuine leather by the brand named "COVERY". If you are looking for a genuine leather band, then this would be the right choice for you.
Thousands of Apple Watch owners who purchased this band on Amazon have rated it 5 star, and are happy with the product.
2. Lwsengme's Steel Wrist Band – $21.99
If you are looking for an Apple Watch band that is fancy but not too fancy, well this could be the one for you. This rose gold band is made of Steel and comes with a tool that will help you adjust the band to whatever wrist size you want.
This band is designed by "Lwsengme", a well-known brand for designing and making watch bands for many other smartwatches.
3. Secbolt's Rhinestone Bling Band – $19.99
This super stylish rose gold Rhinestone Bling Band is designed and built by "Secbolt". It's made of high-quality stainless steel that will never get easily damaged. This fashionable Apple Watch band will surely get you compliments from others.
4. BRG's Stainless Steel Mesh Milanese Loop Band- $14.99
This Milanese Loop is one of the amazing bands BRG sells and closely mimics Apple Watch bands. With a magnetic clasp and woven-steel construction, it is simpler to accurately adjust to more wrist sizes compared to most other brands. This inexpensive rose gold woven-steel band comes in different choices – and at much affordable cost.
Its strong magnets hold the band so tight. There's no buckle required, no addition sag and no need to get rid of the links.
5. AOKAY's Stainless Steel Metal Cowboy Chain Band – $18.50
Looking for the newest cowboy style design replacement band? AOKAY's rose gold stainless steel metal cowboy chain band makes it convenient and simple to adjust the length with the Apple Watch. No tool required and fits 1.38mm 160 to 200mm wrists.
This is made of top-notch stainless steel, luxury and elegant material, comfortable for everyday use. It features precise cut-out, visits all holes and buttons. This rose gold cowboy chain band is one of the perfect gifts for yourself, friends and family.
6. ImmSss's Stainless Steel Metal Band – $20.99
ImmSss's is made of a high-quality rose gold stainless steel material that allows you to install the band and remove it without any issues. It comes with a band adjustment tool and a classic dual folding clasp.
When it comes to design, it is classy and perhaps you might have seen such designs in most steel watches before. This rose gold Apple Watch band will surely compliment your style and available for both the models of Apple Watch (38mm and 42mm).
7. V-Moro's Luxury Arrow Stainless Steel Band – $22.97
The intricate and sophisticated rose gold arrow stainless steel on V-Moro's wristband makes it look classy. The 38mm women Apple Watch band customers might need to wait for some time as it's accessible just for 42mm watch model.
It fits 5.5 inches to 8.6 inches wrist and design of this wristband is quite remarkable. Its design isn't much complicated as well. It features a unique buttons clasp, which adds to the sophisticated appearance of the band.
8. V-Moro's Luxury Diamond Stainless Steel Band – $23.99
For those who want to give their Apple Watch a lavish look, then the V-Moro's luxury diamond rose gold stainless steel band is the ideal option for you. This fits 5.5 inches to 8.6 inches of wrist size and it's so easy to adjust the length of the band without the help of a needing tool.
This stylish steel band makes it a great gift for any classy women out there. it also comes with an Apple Watch adapter, which are made of stainless steels.
9. Fastgo's Vintage Classy Stainless Steel Band – $29.99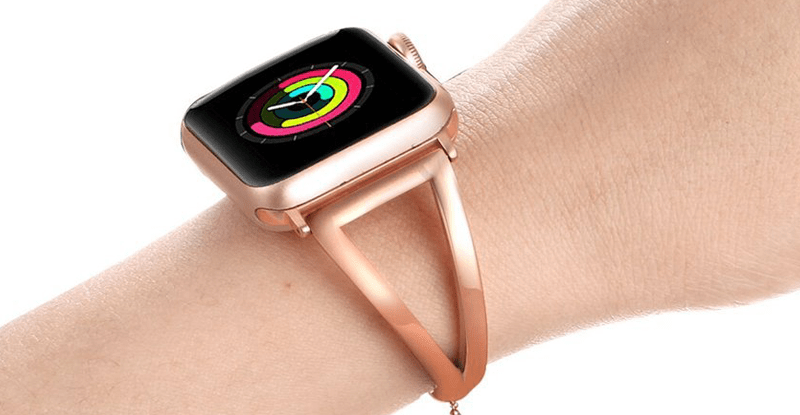 Showcasing fashionable design, Fastgo's Vintage Classy Stainless Steel Band easily catches your attention. The main highlight of this rose gold steel band is the stainless steel beaded design. Addition of pendants has brought more charm to it.
For those chic women who love to attend parties and formal events, this Apple Watch band is ideal for you! The size is adjustable and it's one size that fits all, as the size can be adjusted with its pendant locking position on the Tassel.
10. Wearlizer's Stainless Steel Rhombus Design Band – $29.99
Wearlizer is a beautifully designed and makes a perfect match with the Apple Watch. What has upraised its style quotient is the addition of rhombus design. Created with a top-notch rose gold stainless steel material, this band is a durable companion of the watch. The clasp is prepared to lock the watch effortlessly.
Beyond features, this Rose Gold Apple Watch Bands from Wearlizer will surely befit a partner for your Apple Watch.